- Personnalisation : an original and aesthetic solution for the personnalisation of the dwelling. Without impact on the efficiency of the system, the tee with draught regulator can be used with different decorative models being design, contemporary or trendy.
- Eco performance : automatic running based on a calibrated system adjusted in factory (12 to 15 Pa)
- Compatibility : compatible with our ranges Therminox, Efficience and enamelled pipes.
- The tee with draught regulator involves energy savings.
- The adjustment of the system aims at optimising and adjusting both the combustion and the comfort.
- The system of tee with draught regulator is patented and CERIC tested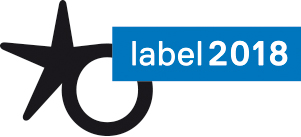 Label Observeur du design 2018
Organisé par l'APCI (Agence de la Promotion de la Création Industrielle ) depuis 1999, l'Observeur du design est le prix français de design mettant en lumière le talent des entreprises et des designers.