Stainless steel, the core material for chimney flues
Stainless steel is an essential material for Cheminées Poujoulat. It is even THE emblematic material of the brand. Used by the brand as early as 1976 in the design of the first chimney flue and the first chimney stack, stainless steel is still more than ever relevant today. This deserves a closer look at this very special material.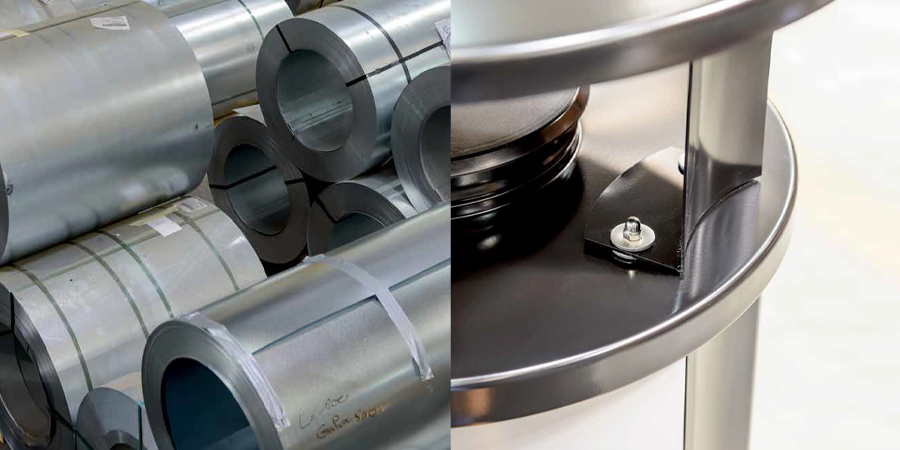 .
What is stainless steel?
Stainless steel is an alloy of iron and a small amount of carbon (less than 1.2%). Stainless steel is a steel that contains chromium, at least 10.5%. This may not sound like much to you, but it is this chromium content that keeps the material from corroding, as the chromium forms a thin surface protection, the passive layer.
This means that this material, even when exposed to moisture, is highly resistant to rust and corrosion. This is one of the main advantages of stainless steel, but not the only one...
The many advantages of stainless steel in the smoke exhaust system
Due to its priority, stainless steel has a wide range of applications in many areas such as kitchen equipment, health care equipment, construction, industry, tools, etc. If we look at our main area of application, smoke and exhaust system, there are at least six advantages :
- Stainless steel can withstand very high temperatures. Some stainless steel flues, such as the THERM+ GEP from Cheminées Poujoulat for connecting generators, are designed to carry flue gas temperatures of up to 600°C.
- Stainless steel is multi-fuel. Stainless steel can be used for wood, gas and oil fired appliances. It can be used to evacuate dry or wet smoke, but be careful, each range of flue has been designed for a specific application. It is therefore imperative to select the flue according to the appliance and the situation of use.
- Stainless steel is strong and light, much lighter than a traditional brick chimney. The weight to be borne by a construction is therefore reduced. For the installer, the metal chimney is also synonymous with a clean construction site and easier installation. Indeed, the flues are manufactured upstream in the factory and then delivered ready to be installed on the building site. What could be simpler?
- Stainless steel is a durable material that offers excellent mechanical and aesthetic resistance over time, provided, once again, that you choose the right stainless steel for the application and the environment.
- Stainless steel is aesthetic. Today, this "raw stainless steel" finish can be found both inside a house and outside, on a flue installed along the facade of a house or building, and even on a roof outlet... Stainless steel can be used everywhere with the same elegance.
- Stainless steel is infinitely recyclable in its entirety.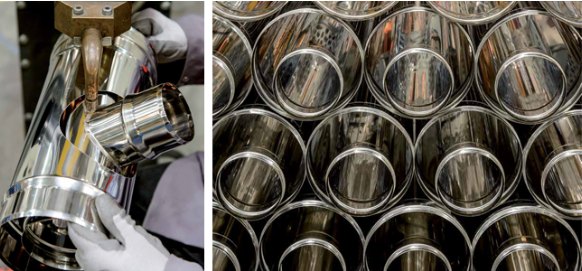 Three shades of stainless steel at Poujoulat
In Cheminées Poujoulat workshops, three grades of stainless steel are transformed: 304 L stainless steel, 316 L stainless steel and 904 L stainless steel. Their respective chemical composition makes them suitable for specific uses or environments.
For example, there are two types of stainless steel in the DUALIS EI concentric flue designed for the connection of watertight boilers:
- The inner flue, which handles the evacuation of the combustion fumes, is made of 316 L stainless steel because it is more resistant to corrosion than 304 L stainless steel.
- The outer flue (or ring flue), which carries the combustion air to the appliance, is made of 304 L stainless steel.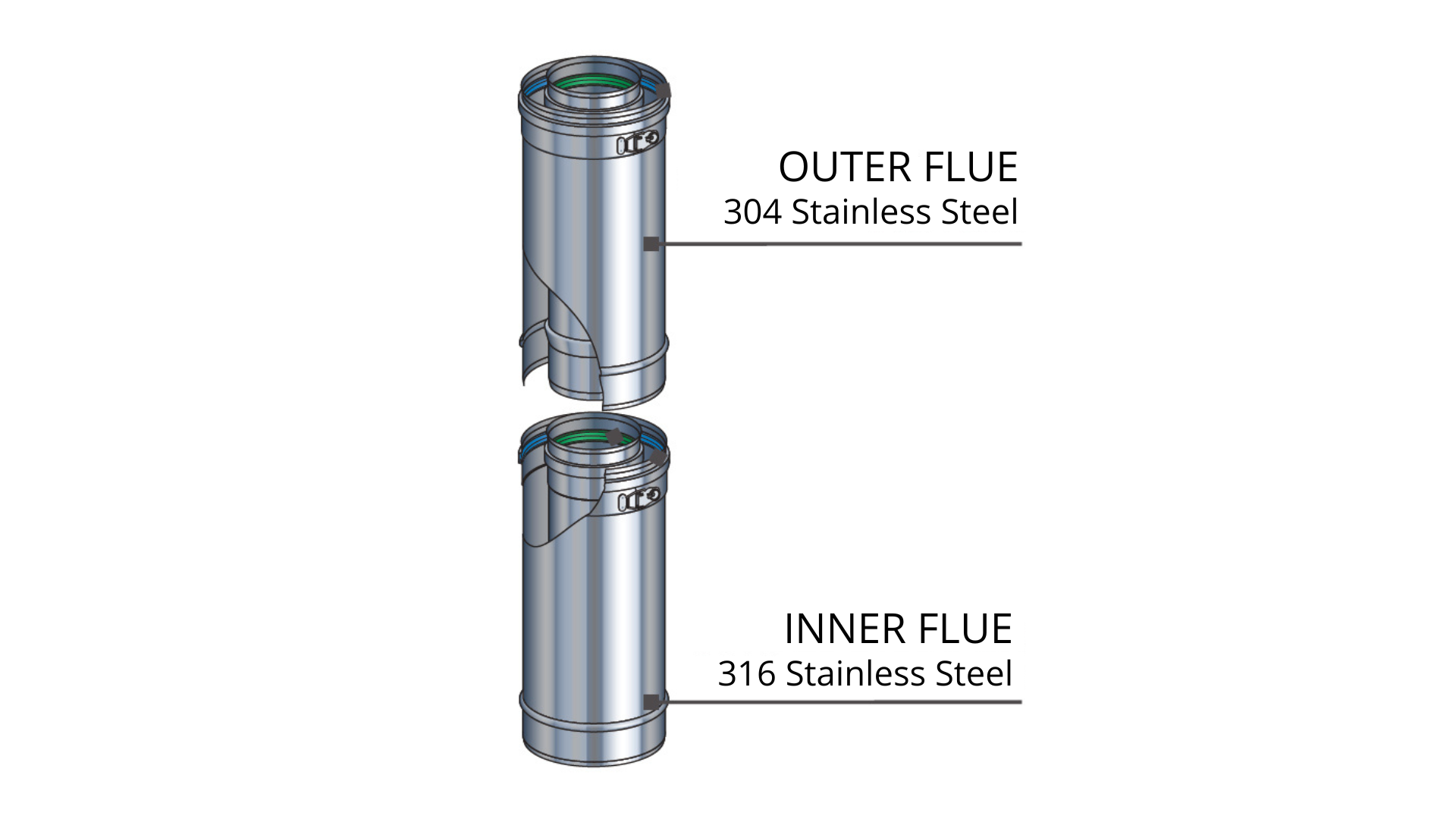 The third stainless steel grade, stainless steel 904 L, is even more resistant to corrosion. This steel is used in the LISSINOX+ HR 2010 stainless steel double skin flexible flue, with offsets: wood, gas, high efficiency oil (temperature > 120°C) and coal.
When design and art take over stainless steel
Stainless steel products are regularly used in contemporary architecture. They have also found their place in interiors thanks to solutions with very meticulous finishes (gates, railings, banisters, credenzas, taps, worktops, suspension fixtures, etc.).
At Cheminées Poujoulat, stainless steel not only forms the body of the chimney stacks, but also cover some models :

LUMINANCE Chimney stacks

OPTIMALE Chimney stacks

RONDE Chimney stacks
Inside the house, around the fire place, the charm of stainless steel is just as effective: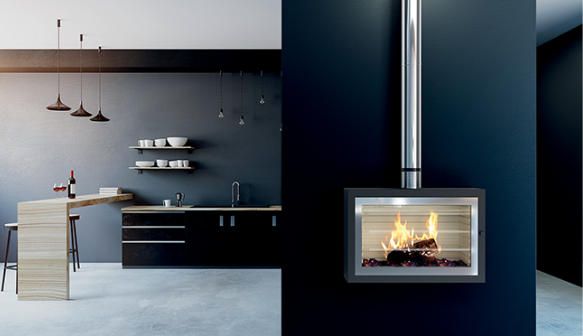 DÉCO'START, the aesthetic connection between the appliance and the THERMINOX flue, in the stainless steel finish.
Stainless steel also inspires artists. It is impossible not to mention RockGrowth, the monumental work signed by the artist and designer Arik Levy! This 4.50 m high stainless steel piece has been illuminating the Atrium at Cheminées Poujoulat's headquarters in Niort since 2013. It required all the know-how and expertise of TF, the subsidiary of the Poujoulat Group specialising in fine sheet metal work.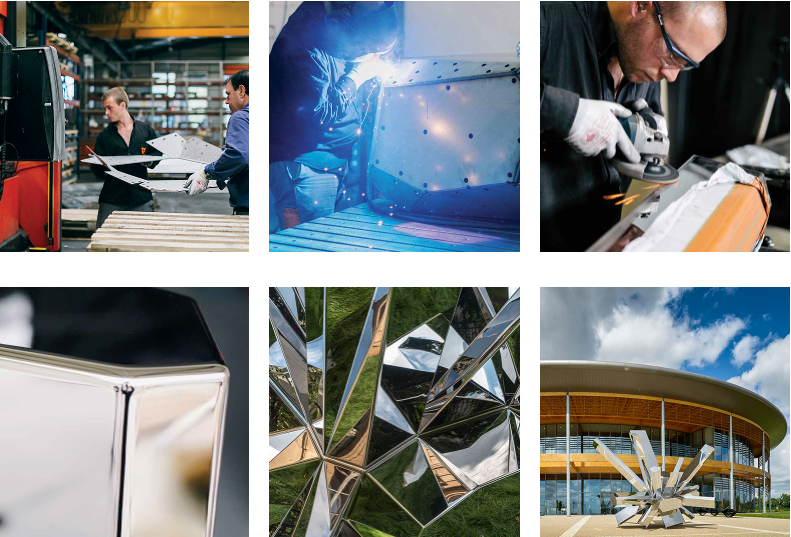 ©Arik Lévy
Diving into the workshop
Folding, laser cutting, shaping, assembly, painting... Would you like to go behind the scenes of the manufacture of our products? Follow the path of a Cheminées Poujoulat Chimney stack until its installation in this 360° video: