VENITIAN, a heat pump cover like no other
The latest addition to the OUTSTEEL heat pump cover collection is called VENITIAN. A little jewel of finesse with rounded edges, and a marvel of functionality not yet seen in its predecessors. We present it to you here.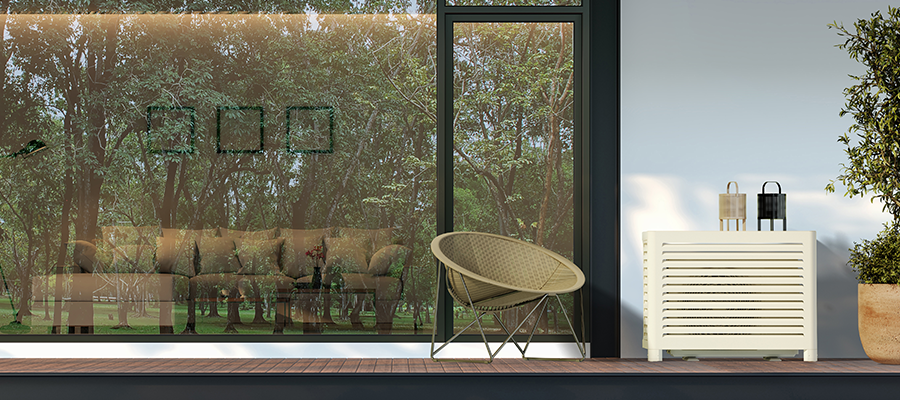 A real piece of outdoor furniture
Its name leaves little to be desired, VENITIAN was inspired by the blinds of the same name. On the three front and side faces, its horizontal sloping blades serve both to break the view of the technical unit of the heat pump and to let the air circulated by the motor block circulate.
But there are two other eye-catching features: the wood-printed top and the two removable side doors.
· The wood-look tray, an important decorative plus
Designed in galvanised steel like the whole cover, the upper tray brings the softness and warmth of wood as well as a decorative contrast of the most beautiful effect. Better still, it will allow the user to place a few items, plants, lights and magazines up to 15 kg. A piece of furniture in its own right!
· Removable doors, easy access to the technical unit
What sets Venitian apart from other models are the two side doors. Two removable doors that can be opened without the need for tools or dismantling, allowing access to the motor block of the heat pump or air conditioner. An exclusive feature that is very practical if you regularly service or check your appliance.
VENITIAN as comfortable on the terrace as by the pool
Venitian, an all-terrain model ? In a way, yes. At ease along a wall as well as in a remote version, VENITIAN adapts to all situations. Like the BROUSSE or BUBBLES models, VENITIAN offers legs and a rear panel as accessories.
Unlike other models in the OUTSTEEL collection, VENITIAN does not offer a high installation, as the designers must have felt that the attractive top deserved to be perfectly visible.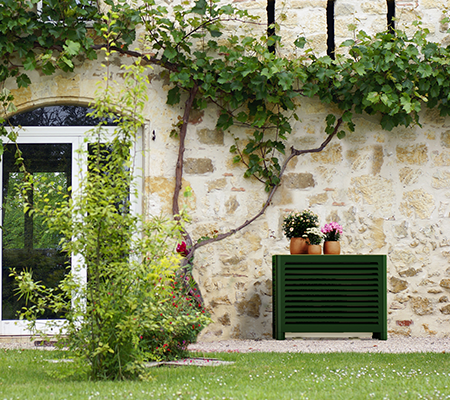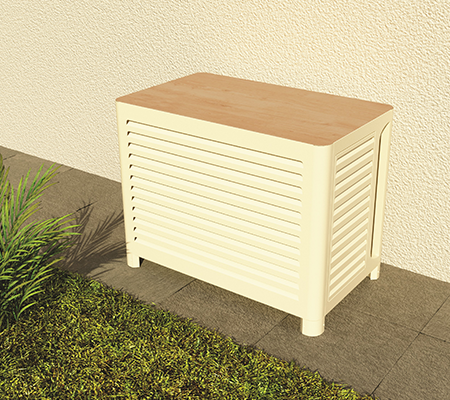 How to install the VENITIAN heat pump cover
To facilitate the installation of the VENITIAN model, we provide a video tutorial summarising the installation step by step:
VENITIAN immediately available in 4 colours in the shop
The VENITIAN range is available in several colours. Grey, creamy white, green and black for the standard models immediately available on the online shop. The VENITIAN heat pump or air conditioning cover can also be ordered in the RAL colour of your choice for complete customisation and perfect integration into your landscape.

Need help finding the right model for your needs?
> Start the OUTSTEEL selection guide