Which heating system should you install in your home?
"What do you heat with? Do you prefer wood, gas, electricity or a mix of energies? Are you satisfied with your heating? The question of how you heat your home easily comes up in discussions. Because heating accounts for a significant proportion of household budgets (more than half of all energy expenditure), because it's an evolving subject with changing laws and regulations, because market players are innovating, because today's truths are not always tomorrow's, and so on.
So when the time comes to choose your heating system, it's not always easy to decide. Here are a few pointers to help you.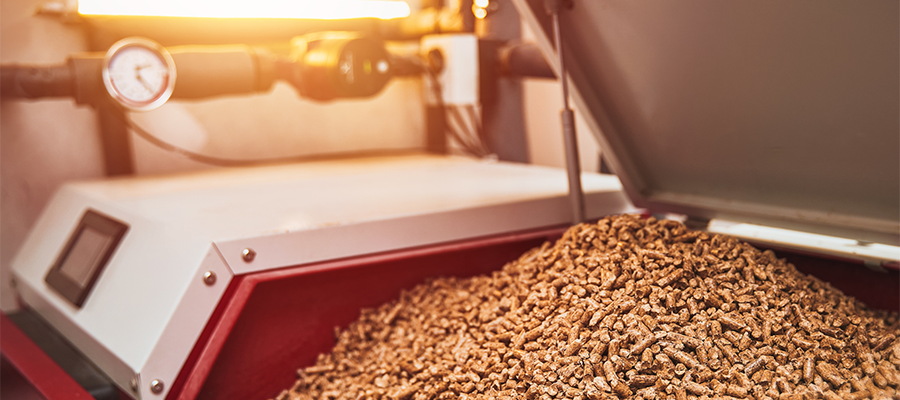 Systems to suit all configurations and budgets
We could steer you towards one type of heating rather than another, promote this or that system because it is more efficient, because it uses renewable energy rather than fossil fuel, but all that would be purely theoretical, since each situation has its own constraints (legal, technical, budgetary, etc.) and meets specific needs.
To help you, here is a list of questions to ask yourself and factors to take into account in your choice of appliance(s), energy(s) and installation.
1. Identify the technical framework
In both new and existing homes, a complete inventory is needed to correctly size the technical solution for the dwelling.
The type of home to be equipped
House or flat, split-level or single-storey, volume to be heated, number and layout of rooms, exposure to the sun (and therefore natural heat gain)... These are the first factors to be taken into consideration. They will help you to determine the right heating capacity, neither oversized nor undersized.
The home's energy performance
The date on which the property was built can give you clues about the materials and construction methods used, the quality of the insulation and joinery, etc. In the case of an old house, the energy performance diagnosis provided when you buy the property will help you to see things more clearly.
In the case of a new or very recent house, this is less of an issue, as construction must comply with current standards (RT2012, RE2020, etc.).
The environment of the property
The region in which the property is located gives you an idea of the climate (sunshine, rain, temperatures, etc.), the location of the property (in the town or more isolated in the countryside) and whether or not the property is semi-detached are also important criteria.
Access to energy
Sometimes the choice is made by default because you don't have access to all the energy sources (a mains gas supply, for example) or you can't store enough fuel (wood pellets, for example)... The opposite is also possible, for example, if you have a supply of ready-to-use fuel (dry, split wood) or the possibility of connecting to a network.
Existing vs. your project
Why not build on what already exists to carry out a heating installation project?
If you already have a heat pump, for example, it might be worth adding a wood-fired system to take the pressure off it or to balance your energy bills more effectively...
If there is a masonry chimney flue, it can be lined to accommodate the flue system connected to the new appliance...
If your home has a roof outlet and a flue, these can also be used. In fact, this is the ideal situation for carrying out work at a lower cost and without affecting the structure.
For reasons of safety, noise pollution, pollutant emissions, architecture or aesthetic "specifications", etc., certain districts and areas may be subject to specific rules. Consult the relevant local bodies and official documents.
Similarly, if you live in a block of flats, you will be subject to the co-ownership regulations. If you don't have complete control, there's nothing to stop you 'campaigning' for less energy-intensive heating systems or better insulation for your building. It's in everyone's interest to consume less and better. But above all, don't forget to consult the regulations before starting any installation project.
2. Choosing the right heating appliance and energy
The choice of appliance and energy is closely linked, but here again there is no universal answer that applies everywhere. Here are some ideas to get you started and discuss with a professional installer.
Does the layout of the home allow a single appliance to cover all the heating needs? Is back-up energy required? Is domestic hot water included?
Experience shows that combining different energies can be a wise choice in terms of savings and comfort. Electricity and wood, for example, complement each other well. Recent tensions on the energy market have taught us that diversifying your energy sources is a form of prudence.
For several years now, wood energy has been one of the best-positioned energy sources in terms of price, while others have been fluctuating or rising steadily and sharply. Today, as in the past, we believe that a mixed energy mix remains one of the surest ways of keeping energy bills under control.
- Fossil fuel or renewable energy? (French energy policy)
It's impossible to predict the future, but the shift towards renewable energy seems to be well and truly underway. The financial aid available to replace old oil-fired boilers leaves little doubt as to the fate of oil. Unless an exemption is granted, it is forbidden to install any new oil-fired heating appliance.
Will the same apply to gas? For the moment, the RE2020 only bans the installation of gas boilers in new single-family homes (from January 2022). This ban does not apply to older homes or collective housing.
So what's left? Biomass boilers, Very High Energy Performance (VHEP) condensing gas boilers, heat pumps and electric heating.
What are the constraints on use?
Maintenance, monitoring, cleaning, supplies, connection to the network, fuel storage, etc. The constraints may be technical, practical or even aesthetic, and each person's position will depend on their own feelings and situation.
The financial aspect also comes into play, and it's important to consider the running costs over several years, not just the initial installation costs. Choosing energy-efficient equipment may be more expensive at the outset, but in the long term it will deliver better performance and help to recoup the investment over the long term.
A few testimonials from our customers...
While we can't draw up an exhaustive list of all the heating solutions available on the market, here are the choices made by 4 of our customers.
"We wanted to enjoy a roaring fire with a wood-burning stove in our living room".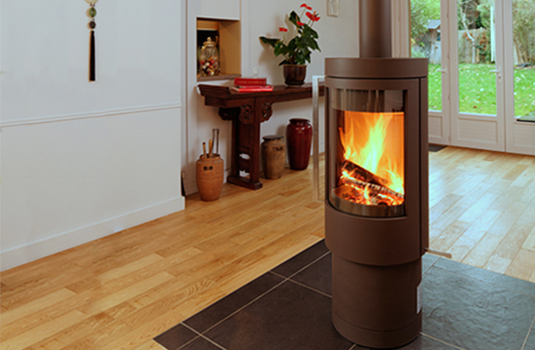 For many people in France, wood heating is synonymous with comfort, gentle warmth and a certain art of living. It also offers a wide range of customisation options, depending on the solution chosen.
"The starting point was our desire to install a wood-burning stove. As our house wasn't new and didn't have a chimney flue, we created a complete system, with air supply and smoke extraction, i.e. wood-burning stove + EFFICIENCE chimney flue + LUMINANCE roof outlet.
The visible part of the flue in the living room was painted the same colour as the stove. We chose a contemporary LUMINANCE roof outlet, which we customised to match the style of our house.
"A pellet stove to reduce your electricity bill"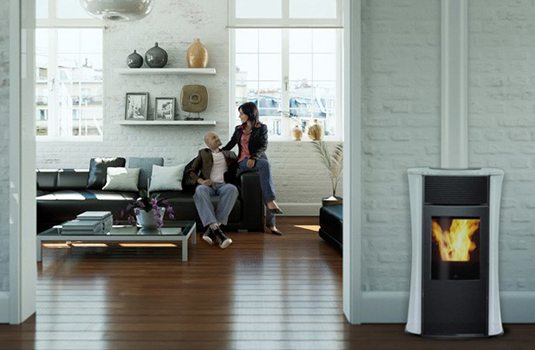 For these owners of a renovated house, their priorities are a little different. They are more interested in energy savings and performance.
"Our house is heated with electric radiators. To limit our electricity consumption, we decided to install a pellet stove. Located in the middle of our home, it heats the whole house, particularly the living areas.
As we had no system for evacuating the smoke, we installed a complete PGI system with a LUMINANCE roof outlet that blends in perfectly with the architecture of our home.
The part of the flue visible in the room was painted in the same tones as our stove.
« The comfort and performance of condensing gas boilers »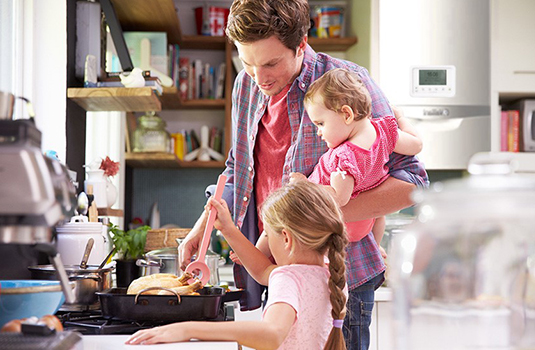 As part of the works, and to reduce the energy bill, I had a sealed condensing gas boiler connected to the natural gas network installed," explains this homeowner.
The installer chose the DUALIS concentric flue from Cheminées Poujoulat.
As I didn't have any existing chimney flue nearby, I created a flue right up to the roof to evacuate the smoke and supply air to the boiler. The white lacquered flue is very discreet in the kitchen.
"We wanted to heat our new home with wood"
For this new house project, the heating method was non-negotiable: "It was a project in which the clients had high environmental requirements and a very strong preference for wood".
The AIRWOOD Confort+ warm air recovery and distribution system quickly proved to be the right solution. Watch the video to find out more: