With DESIGN'UP, covering a connecting pipe has never been so easy
Named DESIGN'UP, the former ventilated cladding has been redesigned and reenginered to make it as easy as possible for anyone to personalise their flue pipe. We tell you all you need to know about this attractive new look.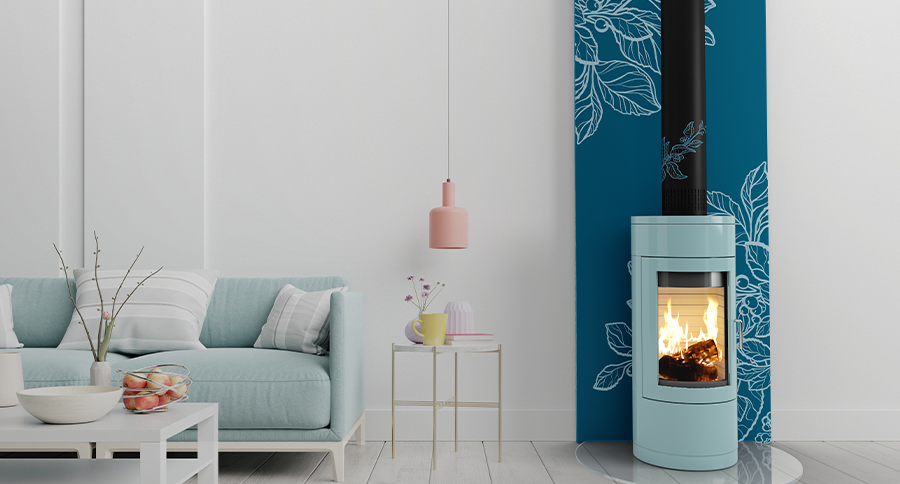 What is DESIGN'UP?
DESIGN'UP is the heir to the ventilated cover designed by Cheminées Poujoulat. Before DESIGN'UP, the ventilated cladding made it possible to personalise the enamelled flue pipe of the appliance by covering it either in a plain colour or in a decorative finish.
As the name suggests, the ventilated cover pipe also provided ventilation at the top and bottom of the cladding to reduce the temperature in contact with the pipe, thus ensuring optimum protection for users.
The ventilated lining also reduced the safety distance between the flue pipe and the combustible wall to reduced to a smaller diameter, compared to three diameters if the lining was not ventilated. In many cases, this threefold safety distance resulted in a welcome meant that space without it was saved.
And finally, like DESIGN'UP, the ventilated cover also consisted of two painted elements that slide into each other, allowing the height to be adjusted to suit each configuration.
So what does the new DESIGN'UP ?
Clipped on, it's set!
The main innovation lies in its installation method. Where the old ventilated liner had to be installed when the flue was installed, or the existing flue had to be removed before the ventilated liner could be fitted, DESIGN'UP wraps around the existing flue and closes with an ingenious clip system.
And this detail changes everything! This patented installation system makes DESIGN'UP a suitable solution for both new installations and renovations. In short, a customisation accessory that is accessible to all and that requires no special tools.
An even more elegant design
On DESIGN'UP, the principle of top and bottom ventilation has not disappeared. But the old notches have been replaced by particularly neat openwork ends... similar to those of DÉCO'START, the aesthetic junction between the THERMINOX and the appliance.
DESIGN'UP in perfect combination with decorative wall plates
DESIGN'UP is available in 12 finishes, including 9 plain colours. In addition to matt black, 8 colours are available on request: Fire red, Purple red, Moss green, Sapphire blue, Earth brown, Chocolate brown, Slate grey and Mouse grey... enough to add colour to the wood stove and the fireplace!

The three other "deco" finishes will be a perfect reminder of the wall finishing plates of the same name, Bucolic, Indus, Pop'Art: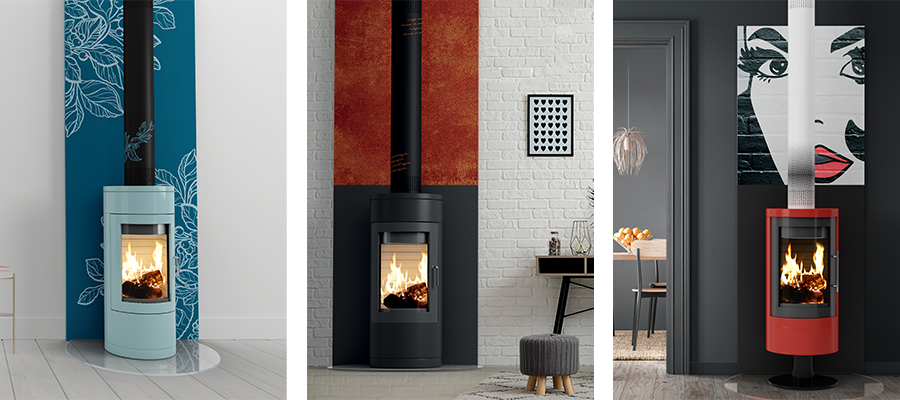 > Find DESIGN'UP and many customisation solutions in the online shop
> You can also configure your own installation online with our 3D configurator